We like to eclipse the ordinary. That includes fast service that you don't normally expect from a bank. For example, we were the first bank in Kentucky to issue debit cards on the spot, the day you open your account. Eclipse also refunds ATM fees on all our accounts and we've made it easy to deposit checks or cash – even at other banks' ATMs.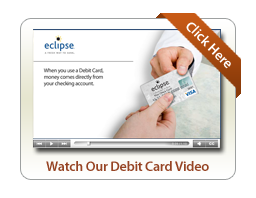 Free ATMs and Debit Cards
Free ATM withdrawals – anywhere under the sun
It's simple. Eclipse provides free ATM transactions anywhere in the world. We'll refund any other bank's service charge...in Louisville or London... Paducah or Paris. There's no limit... no catches... just free ATMs...with no * needed.
Free ATM deposits
At Eclipse, it's easy to deposit cash or checks using your debit card at our ATM or at any STAR ATM.

To find ATMs in your area that accept Eclipse deposits follow the link below, and select Filter Results. Check the box next to STAR Shared Deposit, enter your City, State or Zip Code and click on Go.
Click here
to find ATMs in your area that accept Eclipse deposits.

Free Visa® debit cards issued right on the spot
Receive one or more Eclipse Bank Visa® debit cards on the spot when you open your account and select your own Personal Identification Number (PIN). There's no need to wait weeks to receive your card in the mail.
Lost, Stolen, or Declined Debit Card
If your debit card is lost, stolen, or declined during non business hours, please call 1-800-554-8969.
Consumer Credit Cards
With the variety of consumer cards we offer at Eclipse, you are sure to find a credit card that will meet your needs. If you have established credit, you can enjoy our consumer cards low rates with or without a variety of exciting rewards. If you have no credit or need a fresh start with credit we have specialty cards just for you. All of the cards offer great benefits such as 24 hour cardmember service, instant Visa rewards, and auto rental collision coverage.
Eclipse Visa® Platinum Card
If you are not interested in rewards but want the convenience and acceptance of Visa with the service you can trust the Visa® Platinum is the credit card for you.
Eclipse Visa Signature® Bonus Rewards Card
The Visa® Bonus Rewards card is a no annual fee card that rewards you for your everyday purchases. Earn points with every dollar charged to your account that can be redeemed for a catalog of reward options including travel, merchandise, gift certificates and cash.
Eclipse Visa Signature® Bonus Rewards Plus Card
The Visa® Bonus Rewards Plus Card allows you to earn higher rewards every time you use your card. This card has a $50.00 annual fee.
Specialty Credit Cards

Eclipse College Rewards Visa® Card
Declare your financial independence but keep your spending under control. Establish a credit history without requiring a consigner. This card has no annual fee and earns rewards.
Eclipse Secured Visa® Card
If you have been turned down for a credit card in the past, the Secured Visa® gives you the opportunity to build a credit history. This card has an annual fee of $35.00.
Make a Credit Card Payment
If you already have an Eclipse Bank credit card, click the link below to login to your credit card account online, view transactions, and make online payments.
Visa® is a registered trademark of Visa International Service Association; used with permission.